I've recently started buying single issue comics again (as opposed to trade paperbacks), tempted back largely by following Merlin Mann's relentless love of all things X.
I'm buying physical issues despite the temptation of Comixology, as I enjoy the form of a comic book1: the cover, splash pages, page-turn-anticipation, the cover, oh and the cover. I also worry about Comixology's DRM lockdown. It's strange and frustrating how ebooks/comics are stuck in the DRM world years after music escaped.
Monthly issues are a funny thing - once they're gone, they're gone. They're like small pieces of art that exist in a temporal field that lasts only a few months2. Which makes the weekly trip to the comic shop a fun adventure in spotting what's new and grabbing it before it's gone for good.
One thing I've noticed since venturing back into Sydney CBD's sole surviving comic store is the fantastic variant covers that are being created. It seems that most issues–or at least most issue of the big series–are coming out with limited edition variant covers, and they often are spectacular.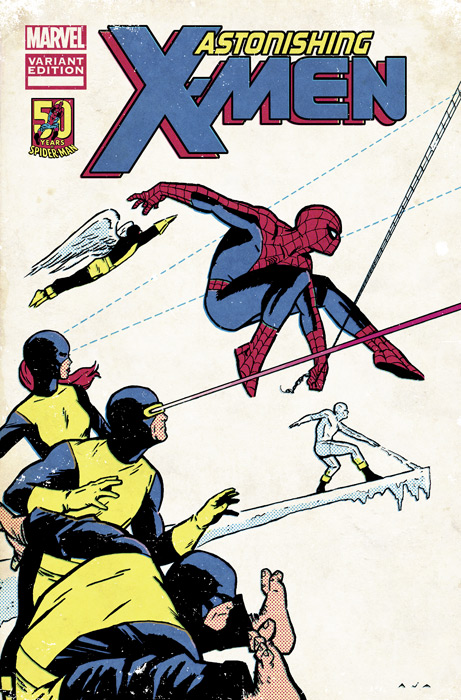 ---
Making the covers limited are an extremely transparent sales & marketing ploy by the publishers, but that doesn't take away from their artistic merit. There is some beautiful work on show. The trouble is that buying the issues is impossible unless you like burning money. My shop sells the 'limited limited' covers for $50, the slighty-less-limited for $15, etc. They never make it to the shelves for the cover price of ~$53. This kind of policy has been the subject of some heated debate amongst the retail fraternity, and I guess it's tough making a living selling comics these days.
Marvel's offical artwork archive is nigh on impossible to navigate sensibly, and the various user generated comic database sites are woefully incomplete and disorganised.
Given a tiny percentage of (well off) readers can lay their hands on them, why not at least make the digital covers easily available? As it stands, tumblr is easily the best way to find comics artwork. West Coast Avengers, and authors Brian Michael Bendis, Matt Fraction, and Kelly Sue DeConnick are all reliable sources of the good stuff.
---
As a bonus, buying a real-world copy of some $3.99 books grants you a digital copy too. ↩︎

I've always enjoyed magazines for the same reason: if you don't buy it when it's on the shelves, it very difficult to get it later. ↩︎

There are some standard-variants that go for cover price, but the real standouts don't The real shame is that there doesn't even seem to be an online archive of the variants. ↩︎